BECAUSE

 

we are a two-women website marketing studio.
We are Henrike and Christiane from Germany but have been living in Costa Rica since our early 20s.
In our first blog post, we want to address the question of why we are not another agency and what made us decide to start our own business and why we chose a studio.
What has driven us to found Con Kalma Studio?
It all started in a Spanish language school in the small beach town of Sámara, Costa Rica, where we ran the marketing department together for almost four years. The range was quite broad, challenging, and fun, from managing and optimizing the school's website to its social media, ads, and marketing strategies. We truly discovered our professional vocation.
So far so good, we had a safe, nice job and a great team that we enjoyed working with.
Now you can all take a guess. The Corona Pandemic kicked in! Within the first two months after the crisis, we had to swallow the sudden economical consequences for our lives. We felt no panic but a need to do something. We started to worry about our financial existence and at the same time, an excitement of entrepreneurship started to rise in us.
Being hungry for growth opportunities for quite a while, we took this situation as a sign to lift our own business venture.
With our experience in diverse areas, we truly felt confident and skillful enough to put the whole dimension of website and online marketing under our own roof. From then on our minds couldn't be stopped from spinning and our fingers were tingling.
Listening to business coaching podcasts became our evening routine while washing dishes or cleaning the house.
"We knew what we didn't want to be."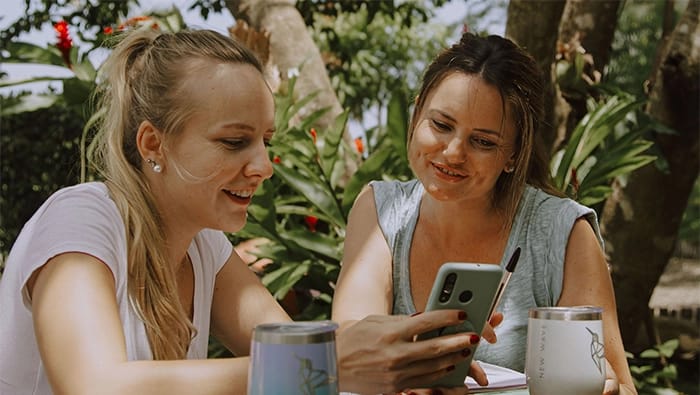 We didn't want to be another web design agency offering overwhelming or confusing packages.
In addition, web design, as they say, is like hedge trimming. There are many competitors. Many good – many bad. But there are many.
For us it was crucial that we focus on finding a real connection with our clients, wanting them to understand what we do and how we can make their day-to-day business not only easier but also perform better online.
The question for us was what is missing within our chosen target groups' websites and what can WE offer to help. BINGO! The interface of web design and SEO competencies and skills, in particular organic search engine optimization, turned out to be lacking within our chosen target groups.
The demand was there, and we were ready to serve it.
Sit back and take care of your day-to-day business. We are your contact for all website-related topics for which most business owners often do not have any capacity or know how.
We want to help business ventures just as we are: Entrepreneurs, startups, and small businesses of any kind by being transparent, to the point, and simply helpful.
By working on each client's project together, we add the value of having:
Four eyes,
Two professional perspectives, and
Duplicate skills.
No confusing or overwhelming marketing packages
We know how annoying bundled packages of marketing services can be. Most of the time, you don't even know what you really get out of them at the end of the day. Therefore, we knew from the beginning that we want to put our whole effort into tailoring our services to each client's real website needs, that not only have to make sense but also are thoughtful, and transparent for both parties.
So we called ourselves a studio – small, cleverly creative, and accessible.
In the beginning, we polished our studio whenever we had time. 20 minutes a day of doing something is more valuable than 20 hours of thinking about doing something.
This was our guiding headline for the next few months. Coffee and wine were our very best friends. Well, and chocolate, too. In January 2021, after we had figured out all the bureaucracy for our studio (the real "fun part"), we were ready to start working independently as Con Kalma Studio.
We couldn't feel any more fortunate about the fact that we took the language school's website with us as our first client. At this point Con Kalma Website Marketing Studio was official. And as odd as it may sound: Thank you Corona for this wake-up call of our entrepreneurial potential that was slumbering inside us.
Check out our website. It has just begun its journey. More useful content will come as we keep growing. Drop us a message and we are happy to tell you more.
We are not just another agency, instead, we are Henrike and Christiane and we run a website marketing studio that is personalized (no hidden "buts"), useful, and accessible.
Our mission is to cater to your exact needs and not sell you bundled website packages that don't meet your business goals. No matter what, we will hover your website to a new level at fair prices.
Do you want to implement your business idea? Tell us about it! We'd love to hear your story.
PURA VIDA, 
and let's not stop chasing our dream business.